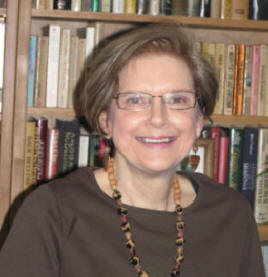 Mary Ann's earlier books include the best-selling and award-winning One-Hour Mysteries, More One-Hour Mysteries, The Private Eye School, and The Great Chocolate Caper. These CSI-like mysteries, also available from Prufrock Press, engage students in critical thinking while having fun solving crimes in the classroom.
Reviews

"What I enjoy most about One-Hour Mysteries is that it introduces students to situations that seem completely relevant to their lives, while setting up intriguing and thought-provoking activities. I am constantly reminded of teachers' need for challenging, good quality material like your books at the conferences we attend; there, teachers often tell us how much they and their students love your books and how they've encouraged their teaching peers to buy them, as well."
-- Lacy Elwood, Editor, Prufrock Press

Two Reviews fron Amazon.com

From a Teacher:
I use [The Great Chocolate Caper] with seventh graders each year. It is a terrific break from traditional reading assignments. Giving them some practice at making inferences and an intro to logic. We work through some of it as a group. Then assign a portion of the work. It is about 4 class periods, not using all of the additional puzzles in the back.

From a former Student:
I participated in the Great Chocolate Caper as [a unit in the gifted program]. I am now a junior in college and I still remember this curriculum vividly. As an education major, I now understand how insightful this was, and I recommend it to anyone, grades 4-8. Buy this book, use it with your students, and enjoy it! It is time tested and I am glad she has published it.
Her other titles are now available from Prufrock as E-Books.
Mary Ann's Book Store
Mary Ann Carr began writing mysteries for kids to solve while teaching gifted students. Each of her best-selling mystery books are designed to develop critical thinking, logic and problem-solving skills.
Mary Ann's latest book, Differentiation Made Simple: Timesaving Tools For Teachers, represents her work both as a veteran resource teacher and an educational consultant with over 10 years experience in conducting teacher in-service training for school systems in the southeastern United States. The book is now available from Prufrock Press. Interview.
Differentiation Made Simple: Pre-Publication Reviews
"Mary Ann Carr gets it! When you raise the floor, you need to raise the ceiling! This book is chalk full of teacher-friendly, ready-to-use materials that help meet the needs of all learners in the classroom environment. From creating tiered lessons to elevating the level of questioning, these methods provide the framework to adapt around lessons across the curriculum. She offers guidance for the novice classroom teacher and extended lessons and activities for teachers more experienced in differentiation, providing motivational, hands-on ideas that can be plugged in with a minimum of time and effort, yet produce dynamic and successful results for all students."
-- Susan Criswell Albaugh, Gifted Resource Teacher, Laurel Meadow Elementary School, Hanover County Public Schools, Virginia. 2008 Hanover County Teacher of the Year
"This is a wonderful book - a gift to teachers, teacher educators, and school leaders. We know more than ever before in history about how children learn. That knowledge is essential if we are going to effectively educate all of our children in today's standards-based school systems. Mary Ann Carr's book on differentiation provides a badly needed and unmatched toolkit for accomplishing this."
-- Arthur E. Levine, President Emeritus, Teachers College, Columbia University, President, Woodrow Wilson National Fellowship Foundation
Click Book Jacket to Order from Prufrock Press
---

Differentiation Made Simple: Timesaving Tools For Teachers
Differentiation is a practice that is beneficial to every student. Rather than focusing on leaving no child behind, differentiation aims to move every child ahead. The trouble for many teachers is, however, that differentiating for all students is time consuming. Differentiation Made Simple will help classroom teachers overcome time constraints and other obstacles to differentiation by providing a wealth of ready-made and generic tools they can employ right away.

Written especially for teachers in the trenches, Differentiation Made Simple will help unlock the door to creating a classroom where every child is challenged by work appropriate for their abilities, interests, and learning styles.
---
| | |
| --- | --- |
| | In this follow-up to her wildly popular One-Hour Mysteries, Mary Ann Carr offers More One-Hour Mysteries. Like the original, this book contains five motivating mysteries that your students can solve using clues, inference, logic, and deductive reasoning. -- Grades 4–8 |
---
Get ready for critical thinking combined with cloak-and-dagger fun! This best-selling mystery collection offers five motivating mysteries that your students can solve using clues and logical reasoning. What better way to motivate thinking than with a whodunit?
-- Grades 4–8
---
In this companion to her best-selling books, One-Hour Mysteries and More One-Hour Mysteries, Carr presents five exciting new mysteries for student detectives to tackle. An excellent starter choice that includes a lesson to prepare students for detective work. --
Grades 4–8
---
| | |
| --- | --- |
| | Before Mr. Van Feisty could even manufacture his first chocolate bar, his recipe was stolen! This mystery becomes a vehicle for logical thinking. Discover who stole Van Feisty's famous chocolate recipe and you'll not only be a great detective, you'll be a master of logical thinking. -- Grades 5–8 |
---
Qwerky Questions & Awesome Activities: How to Keep Your Kids Out of Your Hair and Make Them Smarter at the Same Time
---
Back to top of Page -- Back To Index Page -- Contact Mary Ann